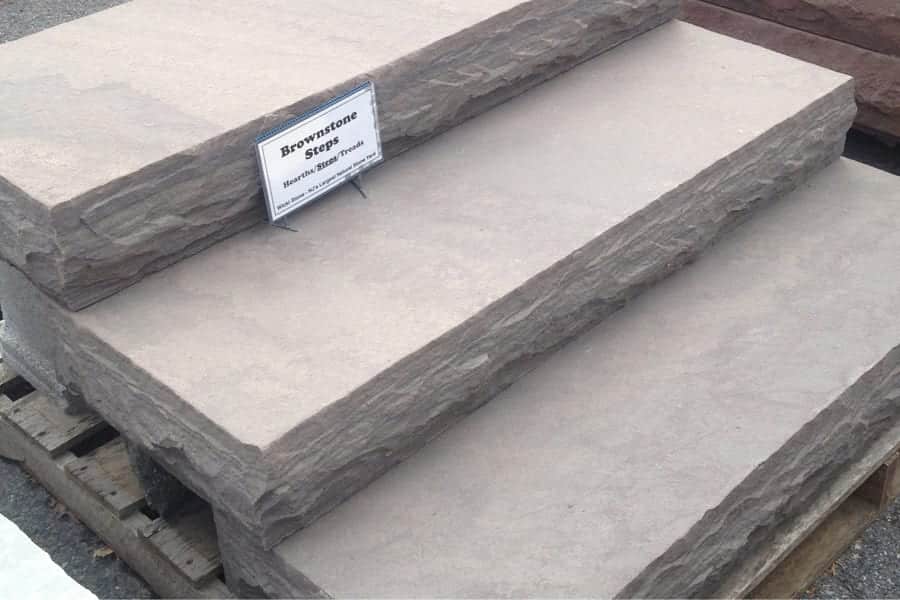 Brownstone Natural Stone Steps Description and Details
Brownstone Natural Stone Steps
These imported brownstone steps have a silvery brown tone, 4 snapped edges and sawn tops and bottoms. We also carry reclaimed brownstone steps where the deep browns/reds are much stronger (scroll down to see).
The imported sawn steps are a silvery brown that gets much deeper when wet. The reclaimed steps are a deep reddish brown.
Imported steps have 4 snapped edges that are straight but slightly rough. The top and bottom are sawn and thermal treated to add texture. Reclaimed steps have chiseled edges as well as chiseled or snapped tops and bottoms.
Most steps have roughly 6" riser heights. Length and width are highly variable and depend on the set. It is not uncommon for each step in a set to be 3-4 feet wide, 2 - 3 feet deep, and 6 to 8" tall, but that can vary widely. We have some sets that are much longer, and certain sets can have significantly smaller lengths and widths.
Imported is sold by the square foot, reclaimed is sold by weight.
Brownstone Natural Stone Steps Photo Gallery
Frequently Asked Questions
In most cases a machine is required to move a step, and certainly required to move a whole set. Each step can weigh several hundred pounds with some steps easily weighing 400-500+ pounds. A skid-steer loader is one of the most frequently used machines for moving steps into place. If you have never done this before we highly recommend you consult a professional. Excavators, Masons and Landscapers are the types of contractors who have experience moving stone this large.
No. Although the stone is conducive to growing moss so if they end up in a shaded location with the right moisture and environment PA Colonial steps frequently support moss growth.
Similar Products - What Goes With This Stone?
PA Colonial is large family of stone at Wicki Stone. We also carry
PA Colonial Wall Stone - multiple forms
PA Colonial Boulders and Placement Rocks
PA Colonial waterfall Spill Rocks