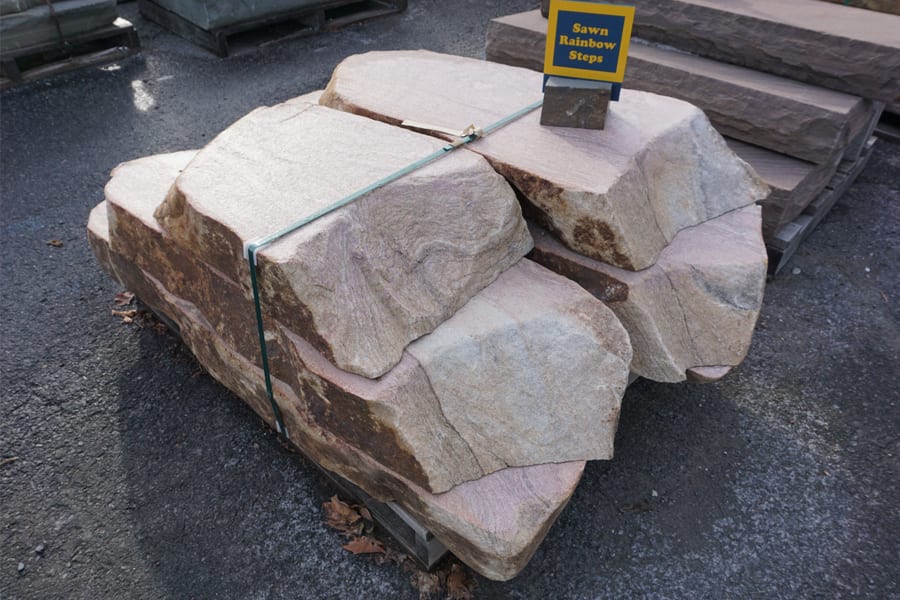 PA Colonial Natural Stone Steps Description and Details
Sawn Rainbow Natural Stone Steps
Pieces are sawn from a single boulder to stunning effect. These are exceptionally beautiful and unique natural stone steps. Sawn surfaces are smooth but not slippery.
Not easy to describe. Rainbow boulders - the stock that these steps are sawn from is naturally orange, rust, salmon and deep brown to black on the outside so the edges of these steps will be some combination of those colors. However, when you cut the stone the inside colors are more muted and there is intense graining in the colors. Really have to be seen to be appreciated - they are striking.
Completely natural edges are highly irregular, top surfaces are sawn so they are smooth but not slippery.
Steps are sawn to 6" riser heights. Length and width are highly variable and depend on the set. It is not uncommon for each step in a set to be 3-4 feet wide, 2 - 3 feet deep, and 6" tall, but that can vary widely.
By the total square feet of step surface area. Each step is measured at the saw house and pallets are marked with total square footage of all pieces on the pallet.
Frequently Asked Questions
In most cases a machine is required to move a step, and certainly required to move a whole set. Each step can weigh several hundred pounds with some steps easily weighing 400-500+ pounds. A skid-steer loader is one of the most frequently used machines for moving steps into place. If you have never done this before we highly recommend you consult a professional. Excavators, Masons and Landscapers are the types of contractors who have experience moving stone this large.
Similar Products - What Goes With This Stone?
Rainbow is a large family of stone at Wicki Stone. We also carry
Rainbow walkway and patio stone - multiple forms
Rainbow and Placement Rocks
Rainbow wall stone - multiple types
Rainbow stair treads