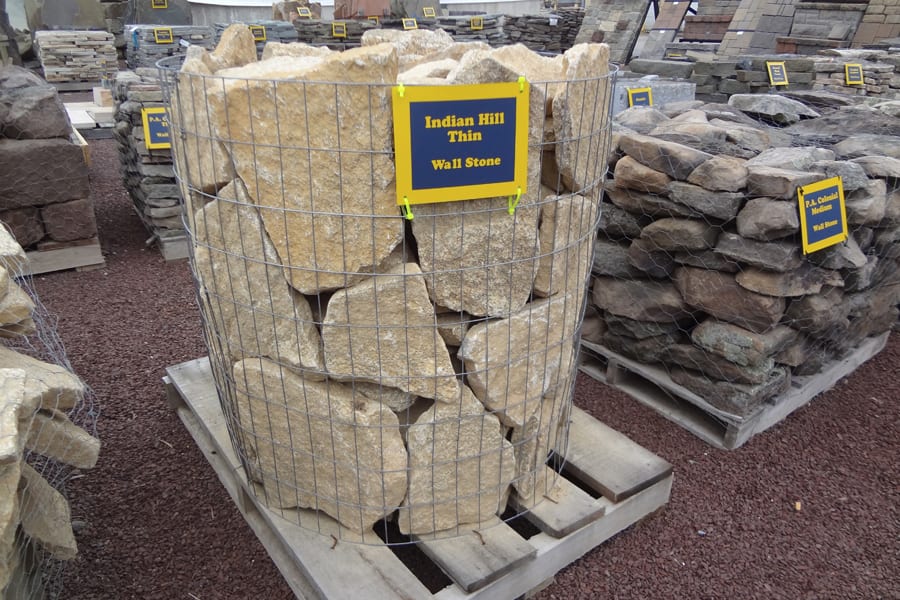 Indian Hill® Thin Wall Stone Description and Details
Indian Hill® Splitface - Palleted Wall Stone
A native northeastern stone picked by our quarriers for thin profiles, completely natural golden brown color, and variable shapes. Used as a horizontal wall stone or building stone veneer.
Overall color is a tan or brown with a strong hue of golden brown on this batch, with occasional earth tone accent colors and unique bands and patches of white. Very aged looking stone - creates a classic wall right from the start.
Completely natural finish, no man made changes.
A typical pallet of wall stone covers 18 to 20 square feet per pallet of wall surface area. A pallet produces a wall 2' high and 9-10' feet long - or any combination of height / length that equals 18 to 20 square feet.
Frequently Asked Questions
Similar Products - What Goes With This Stone?
Indian Hill® is a large family of stone at Wicki Stone. Not only do we carry palleted wall stone, we carry;
Chapel Ridge Steps
Indian Hill® Boulders
Indian Hill® Placement Rocks
Chapel Ridge Treads