Landscape Stone NJ, PA, NY: Transform Your Garden with Decorative Stones from NJ's Premier Landscaping Supply
We sell landscape stones from 15 different product groups at Wicki Stone. We are one of the largest suppliers of landscaping stones in the New Jersey, New York, and Pennsylvania areas. We have everything from walkway and patio stone (also known as flagstone) to wall stone, stone steps, and treads through water garden stone, bridge, spill rocks, and dive rocks. For example, if you are building a patio, we carry as many as 25 choices of stone for your project. Furthermore, we not only have a wide selection of landscape stones, but we also have a deep on-site inventory of all our landscape rocks. In addition, we deliver landscape stones locally and regionally.
If you want to improve the landscape of your home or a client's home, Wicki Stone is a premier supplier of unique landscape stones. We urge you to stop by our Great Meadows, New Jersey, stone yard. You will find one of the unique collections of landscaping stones available anywhere.
Landscape Stone Products For Sale At Wicki Stone
Landscape Stone At Wicki Stone
For nearly 40 years, Wicki Stone has provided Landscape Stone to contractors and homeowners throughout New York, New Jersey, and Pennsylvania. We have over 1500 products at our 10-acre Great Meadows, New Jersey, stone yard. A significant majority of our products are landscape stone options.
We are one of the region's largest suppliers of bluestone walkways, patios, pools, and porch deck stones (learn more about bluestone here). This stone is also called flagstone. We stock 17 different options of pattern stone (precisely cut into squares and rectangles). Even more, options are available in irregular patio and walkway stone because we offer 19 different options of irregular stone (completely natural, irregular edges). We certainly have the stone choices for your patio, walkway, pool deck, or porch deck.
Stone Steps, Wall Stone, and More
In addition, we carry 25 different types of palleted wall stones. We also stock numerous choices in bulk wall stone, boulders, and large stone chunks.
Similarly, we have the largest selection of natural stone steps in the northeast, with 22 different stone step choices. You'll be thrilled with the variety of choices in natural stone landscapes. We sell 7 different stone stair tread choices so you'll have many options to choose from. Finally, we sell an unmatched selection of specialty stones such as water garden stones, waterfall rocks, stone benches, landscape boulders, moss rocks, placement rocks, and garden accents.
As a result, we feel that Wicki Stone offers you an unbeatable selection of landscape stone choices. In conclusion, we invite you to stop by, and we are a unique landscape stone resource serving the New Jersey, New York, and Pennsylvania markets.
Top Facts on Landscaping Stones
Many stone types and colors are available in NJ, from natural stones like bluestone to manufactured options such as pavers.
Professional landscaping services that can help you choose the right type of stone for your project.
The ability to customize your landscape with unique designs and patterns created using different types of stones.
Durability and longevity, when properly installed, make it an excellent investment for any outdoor space.
Increases property value due to the aesthetic appeal of well-designed landscaping features made with quality materials.
Lower maintenance costs compared to other hardscapes such as concrete or asphalt driveways or patios.
Protection against soil erosion caused by rainwater runoff due to its porous nature allows water to pass through instead of pooling on top of the surface.
Landscaping Stone Latest Pictures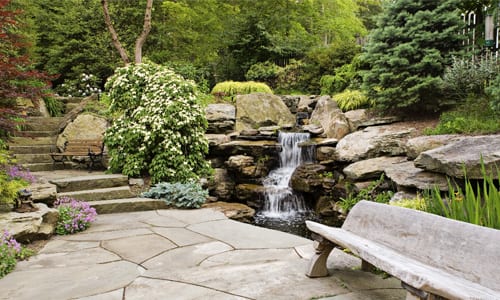 This photo shows a range of different landscape stone examples. In the foreground there is irregular walkway and patio stone, the water feature includes landscape boulders, and spill rocks. To the left are more boulders and natural stone steps. Photo courtesy of Cording Landscape Design.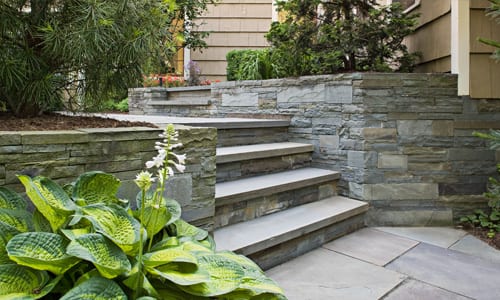 This photo shows two different types of snapped wall stone. Wall stone is one of our most popular landscaping stone products - we offer nearly 25 different types. Shown here is one of four types of snapped wall stone we offer. Snapped means that the stone was cut (snapped) by our on-site stone guillotine. This process opens up the color on the inside of the stone and roughly squares the edges. The result is a relatively easy stone to work with. Shown here are bluestone snapped wall stone and Karney® snapped wall stone. Photo courtesy of Cording Landscape Design.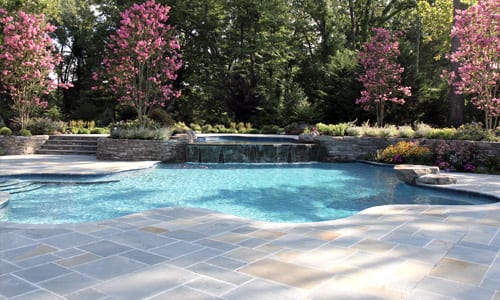 Bluestone pool decks are a popular use of this landscape stone. Shown here is a full color, natural cleft (slightly rough) bluestone pool deck in New Jersey. Bluestone remains our single most popular stone for pool decks, walkways, patios and porch decks. Our full Bluestone product line includes wall stone that goes beautifully with our pattern and irregular pool deck stone. Photo courtesy of Landscape Techniques of Nutley, New Jersey.