Bluestone Irregular Oversized Walkway/Patio/Garden Path Stone
Bluestone Irregular Oversized Walkway, Patio, and Garden Path Stone are larger pieces of bluestone - then tend to be thicker than our Bluestone Horizontal Irregular Pallets. These are 2 - 3" thick pieces that are sometimes used to bear heavier loads. The color varies by the pallet but can include earth tone accents on any piece. This stone can also be used to make stone steps. The rise will only be 2-3", not the standard 6" of of our Natural Stone Steps, but the Bluestone Irregular Oversized Walkway and Patio Stone pieces are easier to work with than 6" steps. This is a versatile stone that can be used to make walkways, patios, garden paths, stepping stones, and steps.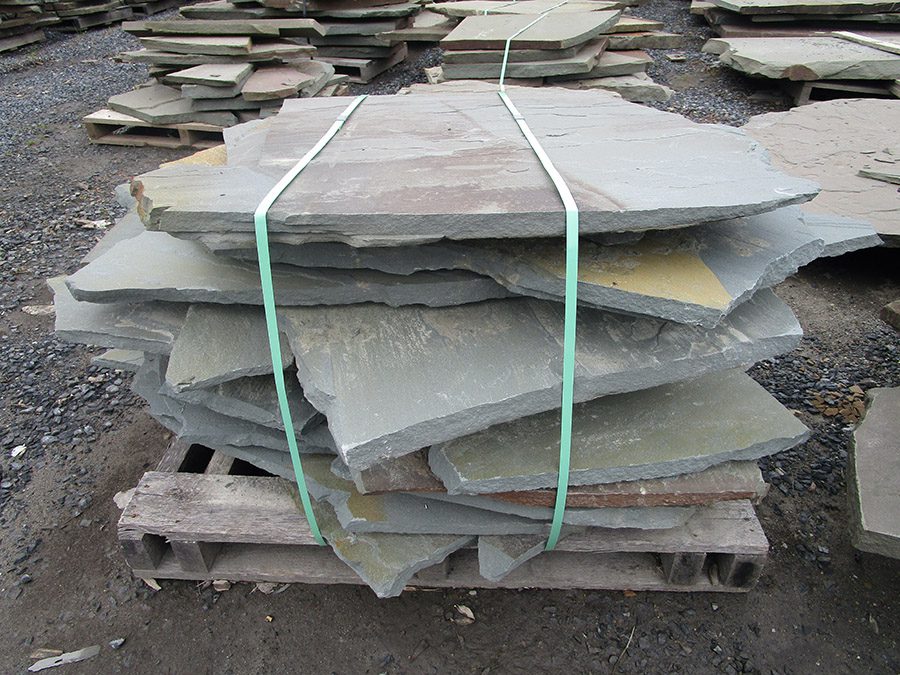 Long Description
Basically mini slabs of bluestone. Not the size of our large slabs which can be 4+ feet wide and 8+ feet long, but these can still be significant pieces of stone that may require a machine to move and set. Thick enough that they could be used as stairs. Beautiful color variations and choices, If you can handle, move, and set this stone the finished product will not disappoint.
Frequently Asked Questions
Similar Products - What Goes With This Stone?
Wicki Stone carries these products that match or compliment Bluestone Oversize Irregular walkway and patio stone.
Bluestone treads and natural steps
Bluestone wall stone - numerous types
Bluestone building stone
Bluestone spill, dive and bridge rocks
The entire Karney family of stone
Have Questions? Please call us at 908-637-6004 today
We sell over 1,500 different products in our yard, and we are constantly introducing new products. We can't show everything we sell on this site so please call if you have any questions or don't see what you are looking for. Or email us below.