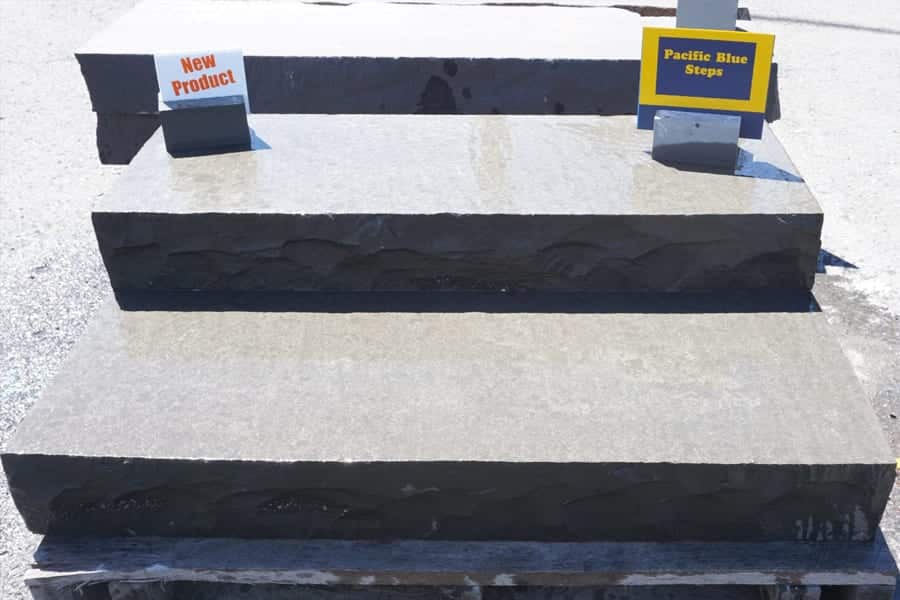 Pacific Blue Natural Stone Steps Description and Details
Pacific Blue Natural Stone Steps
This stone is snapped on a stone guillotine to yield somewhat rough edges but smooth tops and bottoms that are not slippery.
Medium gray, uniform color
Edges are snapped to yield a somewhat rough finish, top and bottom are smooth and not slippery. The look and feel of the stone is very clean and elegant.
6" riser heights, 4 feet wide, 18" deep.
Pacific Blue Natural Stone Steps Photo Gallery
Frequently Asked Questions
In most cases a machine is required to move a step, and certainly required to move a whole set. Each step can weigh several hundred pounds with some steps easily weighing 400-500+ pounds. A skid-steer loader is one of the most frequently used machines for moving steps into place. If you have never done this before we highly recommend you consult a professional. Excavators, Masons and Landscapers are the types of contractors who have experience moving stone this large.
Similar Products - What Goes With This Stone?
Pacific Blue goes well with any of our bluestone products including;
Bluestone wall stone - multiple types
Bluestone treads
Bluestone building stone
Bluestone bridge and dive rocks