Landscape Boulders NJ, NY, PA: Stone Boulder & Rocks For Landscaping
We carry 6 different types of stone boulders. Boulders are large pieces of stone, generally taken from the quarry. They are a popular landscape stone product at Wicki Stone. Boulders can often take an ordinary landscape and make it exceptional. Landscape Boulders are also a great way to adjust a landscape to a change in elevation. Our boulders range from sizes that a person can maneuver to huge pieces that can only be moved by machine.
Boulders are used for rock gardens, extensive rock walls, retaining walls, sculptural placement rocks, water gardens, and more! In addition to being functional, they are aesthetically beautiful, maintenance-free, and last forever. Wicki Stone has one of the largest selections of boulders in the tri-state New Jersey region. Our "boulder field" includes hundreds of individual pieces of stone, from small to extremely large. From the rounded beauty of glacier boulders to the deeply textured beauty of Moss Rock, we have one of the largest selections of boulders in the New Jersey, New York, and Pennsylvania regions. If you are looking for stone boulders for your landscape project, we urge you to visit Wicki Stone.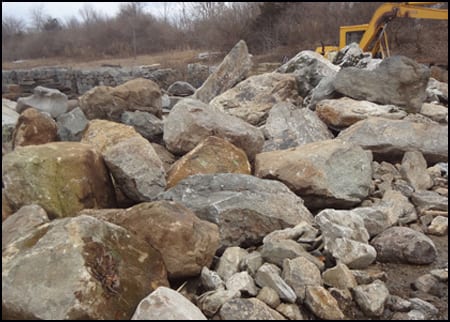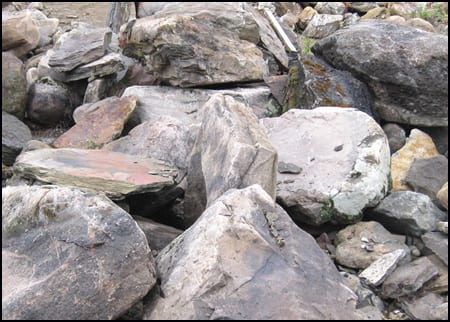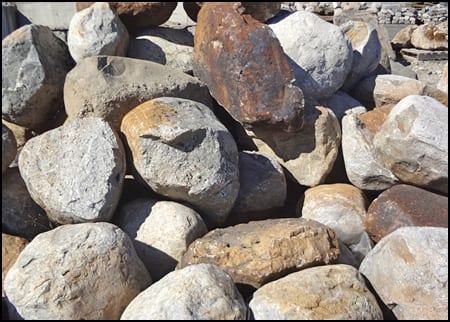 Explore Our Boulder Field At Wicki Stone
Our boulder field occupies part of our 10-acre New Jersey stone yard. It contains hundreds of individual stone boulders - both large and small. You can easily walk through the field, around the boulders, to pick the perfect stone for your individual. Clients enjoy the range of choices, sizes, colors, and textures. We have boulder options for almost any application. We deliver boulders with our fleet of trucks to job sites and homes throughout the New Jersey, New York, and Pennsylvania markets. Stop by and explore one of the unique collections of stone boulders you'll find anywhere.
Expert Facts On Landscaping Boulders
Landscape boulders in NJ, PA, and NY can be found in various sizes, shapes, and colors.
They often create natural stone features such as retaining walls, boulder gardens, or waterfalls.
Boulders should be placed on a solid foundation for stability and safety.
Professional installation is recommended to ensure proper placement and secure anchoring of the boulders.
The cost of landscape boulders varies depending on size, shape, color, and availability.
It's essential to consider the climate when selecting landscape boulders since some materials may not withstand extreme temperatures or weather conditions.
Proper maintenance is essential for keeping your rock formations looking their best over time; this includes regular cleaning with mild soap and water and occasional sealing with an appropriate sealant product.