Veneer Stone Nj: Transform Your NJ, PA, or NY Home with Veneer Stone Cladding!
Full-Size Veneer Building Stone
What is veneer stone?
Veneer stone is a thin layer of natural or manufactured stone used for cladding or covering surfaces such as exterior siding, interior walls, and landscape pavers. At Wicki Wholesale Stone, Inc., we specialize in providing various stone products, including cultured stone, a type of manufactured stone, and thin veneers. Located in NJ and serving PA and NY, we are a one-stop solution for your building and home services needs. Whether you're looking for natural stone for a rustic aesthetic or prefer the consistency of our manufactured stones, our veneer stone solutions can enhance any design, adding a touch of elegance and durability.
We define Full Size Veneer Stone as any suitable stone at least 3 inches thick or thicker. Most of our natural stone products are 3 - 6" wide. All full-size veneer stone needs a foundation shelf (a ledge - often concrete - that is part of the foundation or, in some cases, poured as a separate section of concrete tied to the foundation) to support the weight of the stone. Vertical building walls cannot hold up the stone - it is too heavy. Wicki Stone quarries and then splits or shapes our stone into a unique collection of building stones. We currently strive to stock six full-size building stone choices, and we do carry several additional types of full-size stone from other sources that can be quickly special ordered.
We Stock 6 Types Of Full Size Veneer Building Stone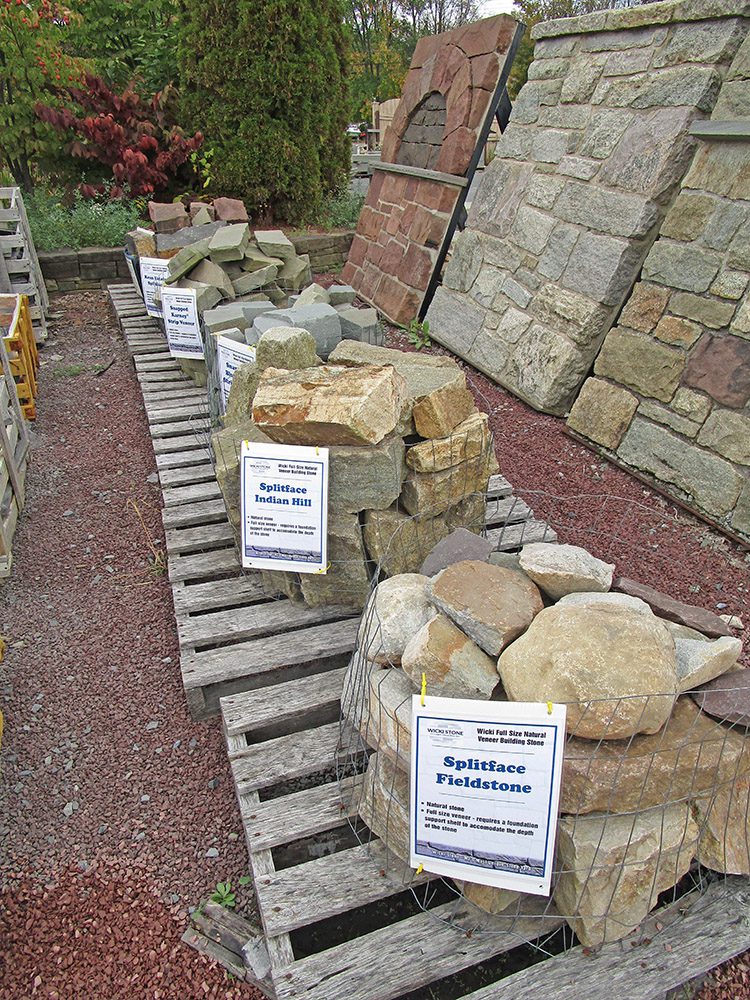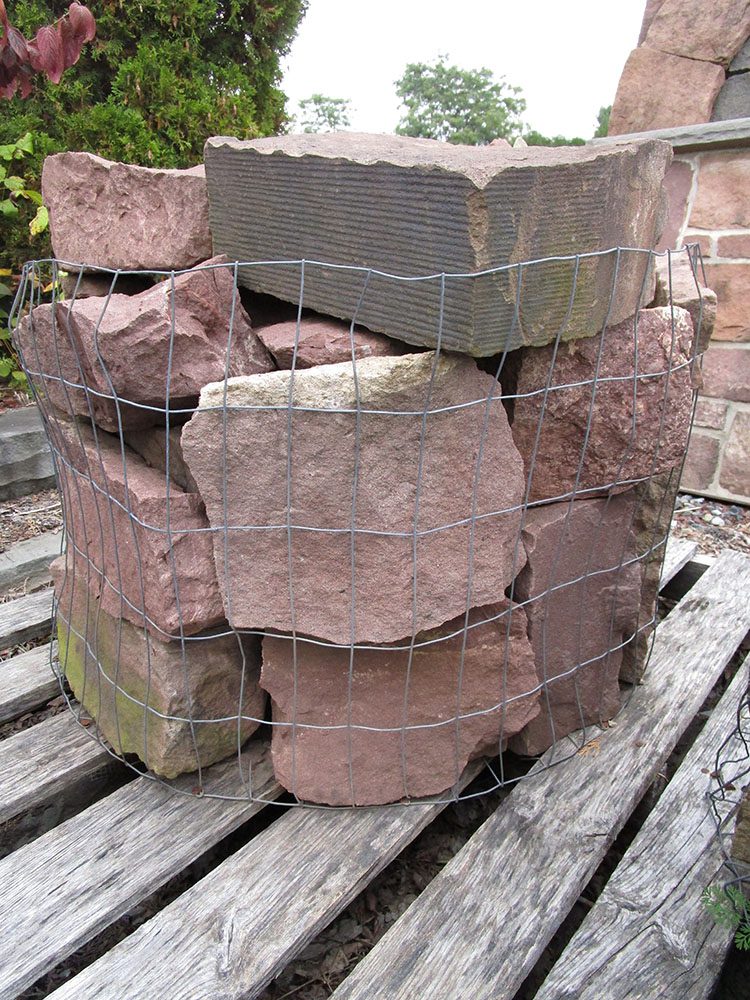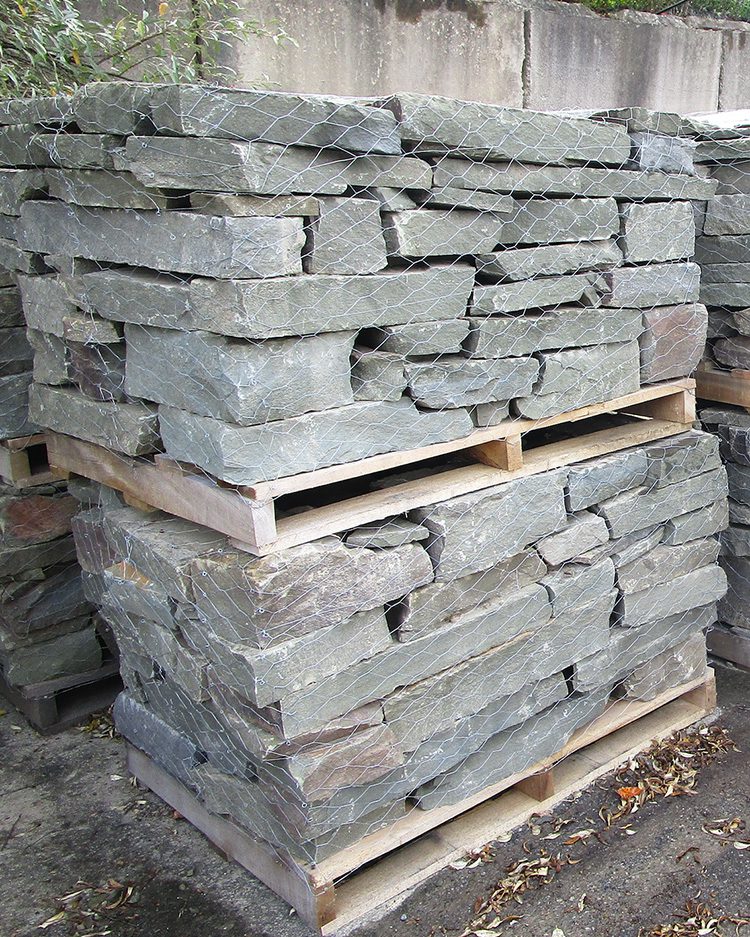 Wicki Stone stocks 6 types of full size veneer building stone in our 10 acre, Great Meadows (Warren County) New Jersey stone yard. We process most of the full size veneer at our yard - which entails turning raw stone into finished full size veneer. This is most often done by splitting the stone in our on-site guillotine stone splitter. The splitting process not only squares off the edges of the stone , it opens up the center of the stone were the colors can be even richer than the outside color.
We strive to have all 6 full size veneer stone products in stock for immediate pick-up. Larger orders may require more time to fill, but we have a substantial inventory of this full size veneer stone in stock.
Full size veneer requires a foundation shelf for the stone to sit on. This foundation shelf bears the weight of the stone wall, not the siding of the structure. Thin veneer is attached to the siding of the structure and that siding wall bears the weight of the stone. Full size veneer stone is too heavy to hang on any wall - it has to have a foundation to sit on.
In New Jersey and surrounding states it is common to see full size veneer stone on older houses. Many of these homes are 100 or even 200+ years old, and the stone gives the house incredible character. There was no such thing as processed thin veneer 200 years ago, virtually all stone was full sized and it has clearly not only stood the test of time, it is more beautiful and character filled than ever. Full size veneer stone is for the ages, and Wicki Stone has a great selection of in stock full size veneer building stone.
1) Splitface Indian Hill Full Size Veneer Building Stone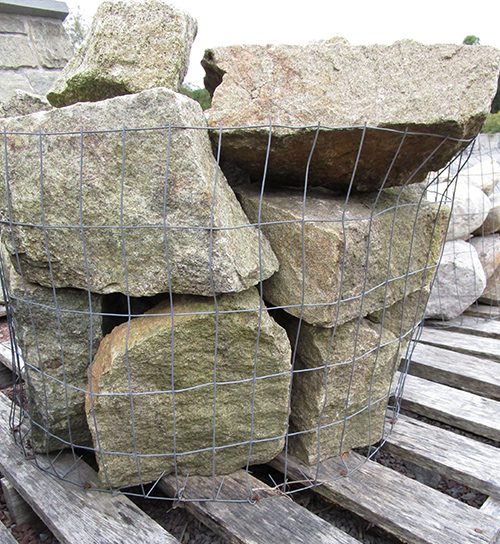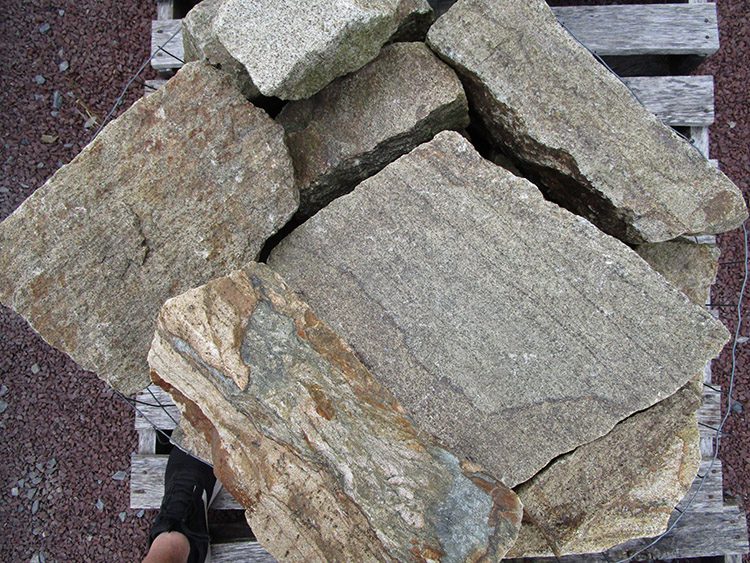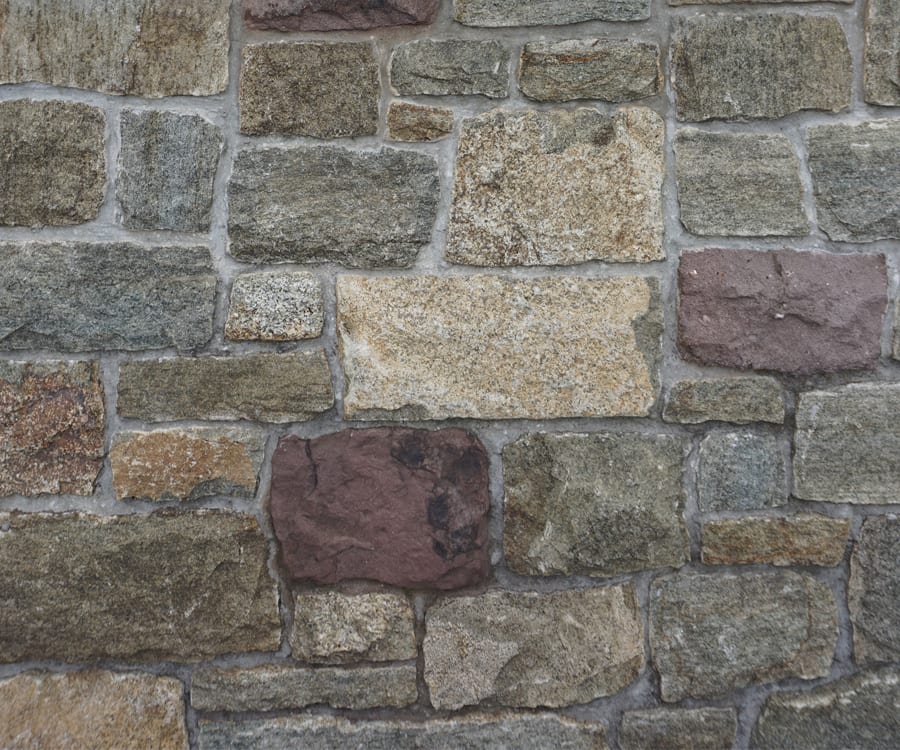 Description
We take natural stone typically in boulder form and guillotine snap one or more faces to create rough squares and rectangles of this native northeastern U.S. stone. The snapping process reveals the interior colors of the stone - gray base colors with accent colors that include tans, rusts, and browns
Specifications
Up to 6" thick (deep) full size veneer stone. Sold loose by the ton and in pallets.
2) Brownstone Full Size Veneer Building Stone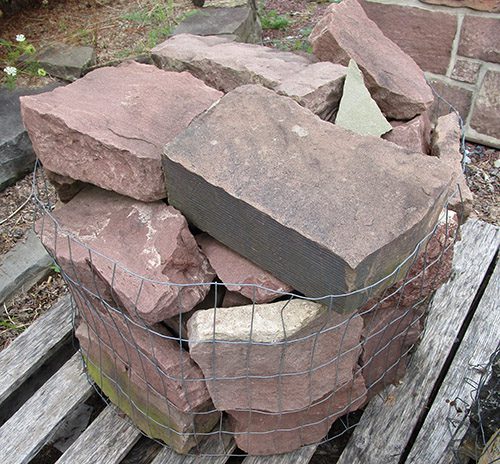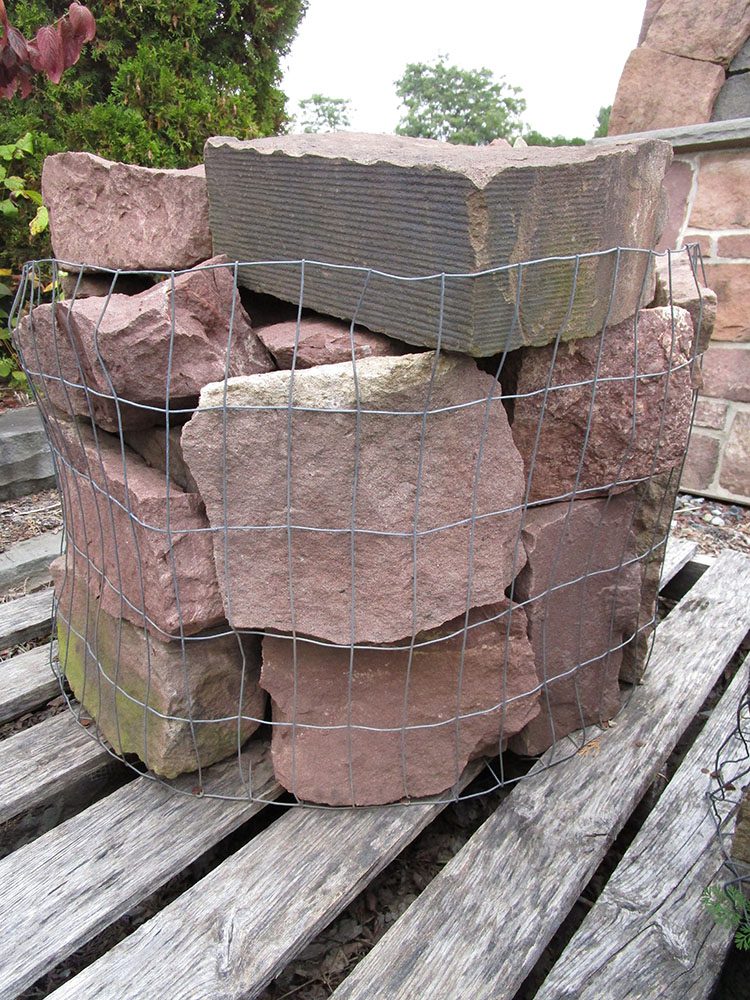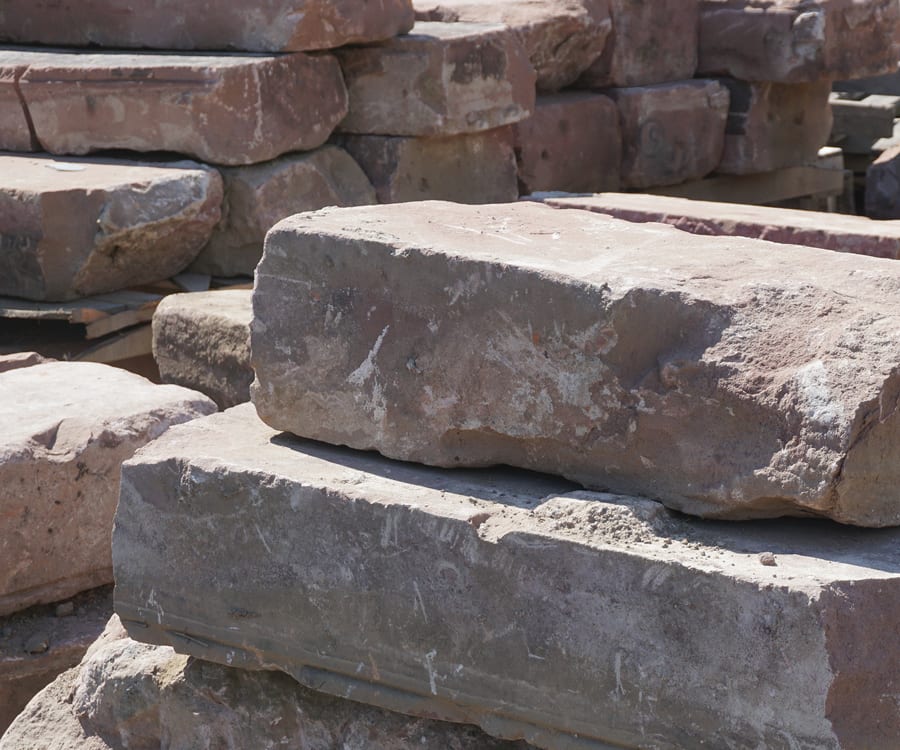 Description
Reclaimed Brownstone is guillotine snapped to create a uniquely colorful building stone. This stone is from one of the original quarries that produced the stone for New York City Brownstone townhouses. (Note: the picture here is before the stone is snapped, the pieces are much larger than the size after they are snapped).
Specifications
Up to 6" thick (deep) full size building stone. Sold loose by the ton.
3) Snapped Bluestone Full Size Veneer Stone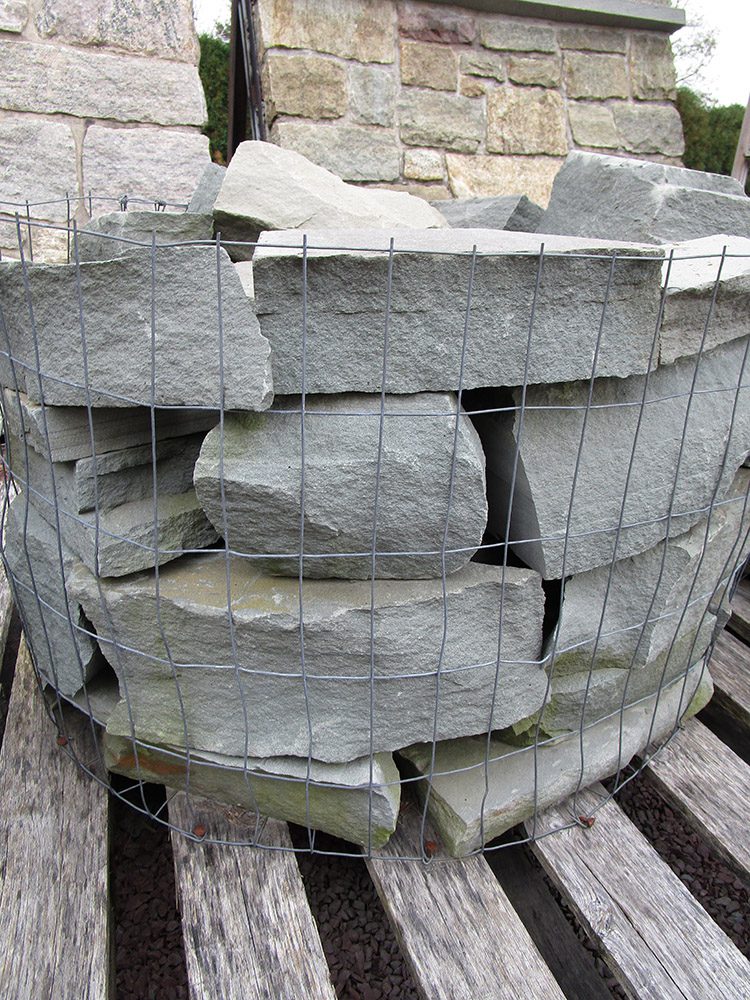 Snapped Bluestone full size veneer takes raw slabs of bluestone and snaps (splits) the stone into manageable pieces. The thinnest piece is 3" thick, there are a mix of  pieces up to 6" thick - pieces can be as wide as 6 to 18+ inches. The snapping process gives a natural edge and opens up the interior colors of the bluestone which can be brighter than the exterior colors. The results is rough edges with great color and deep character in an easy to stack stone.
Specifications
Up to 6" thick (deep) veneer building stone. Sold loose by the ton.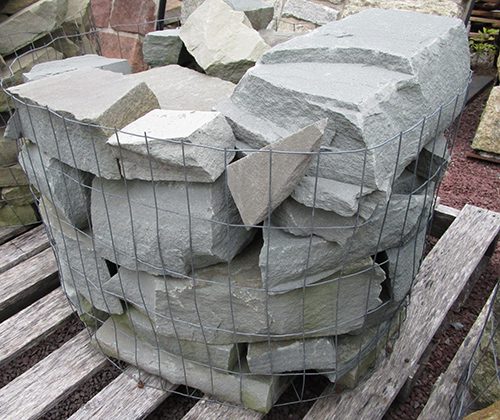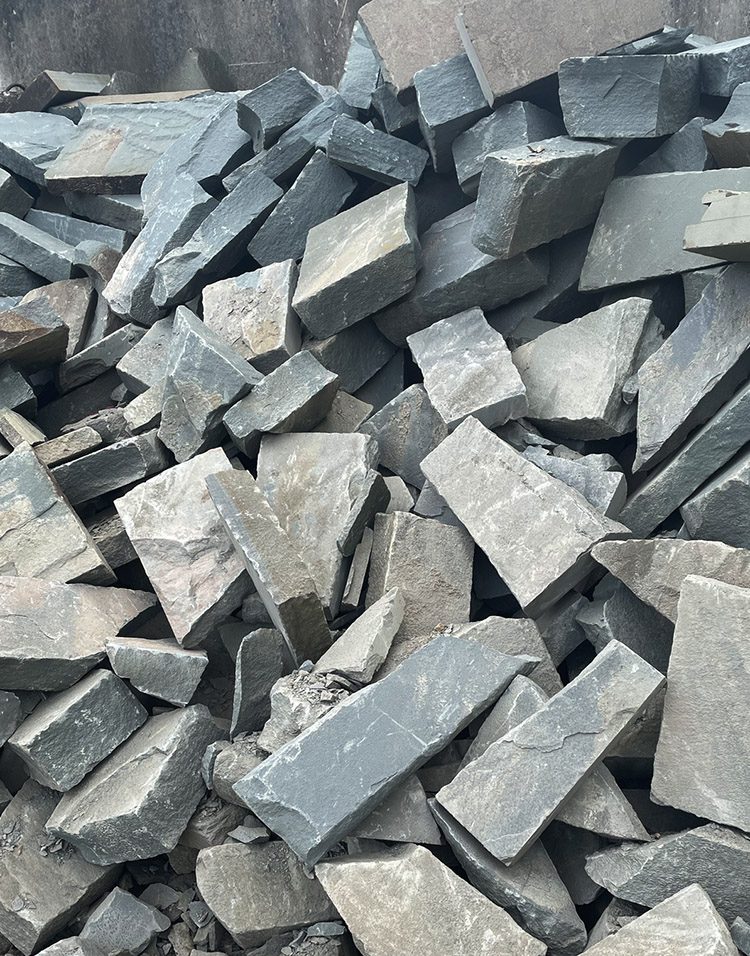 4) Snapped Karney® Full Size Veneer Building Stone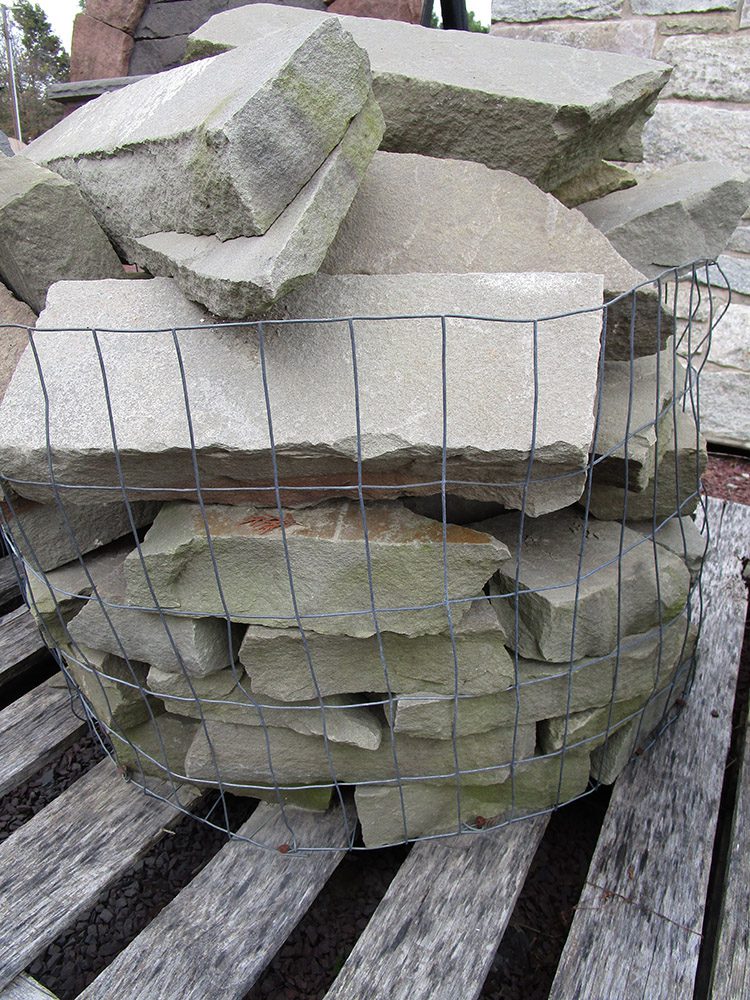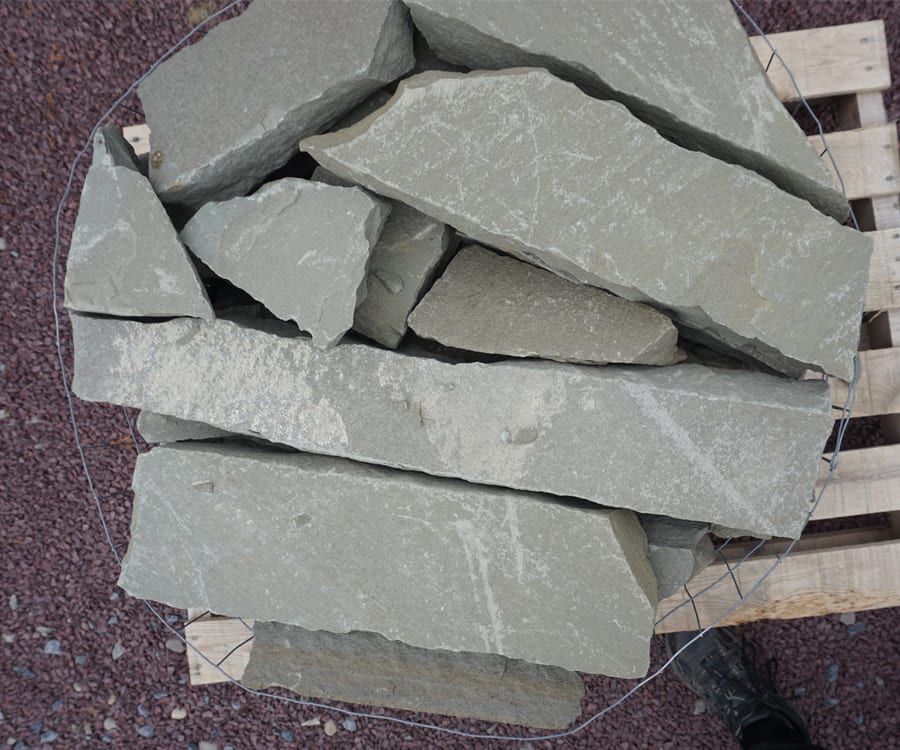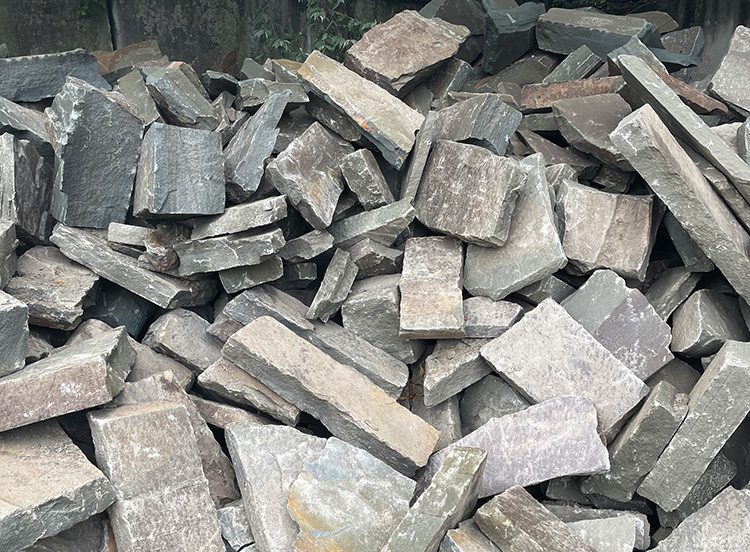 Karney® is one of our most popular stone families, we carry the stone in a wide range of forms (both Landscape Stone and Building Stone). Karney Full Size Veneer brings the base color of Karney in (light brown and green) with accent colors that include a range of deep earthtones. Guillotine split, the pieces have a strong horizontal look. Reasonably easy to work with (would be very easy but all full size veneer building stone, including Karney,  is heavy). Like all to full size veneers this stone requires a foundation shelf to sit on for support.
Up to 6" thick (deep) full size veneer stone. Sold loose by the ton.
5) Splitface Fieldstone Full Size Veneer Building Stone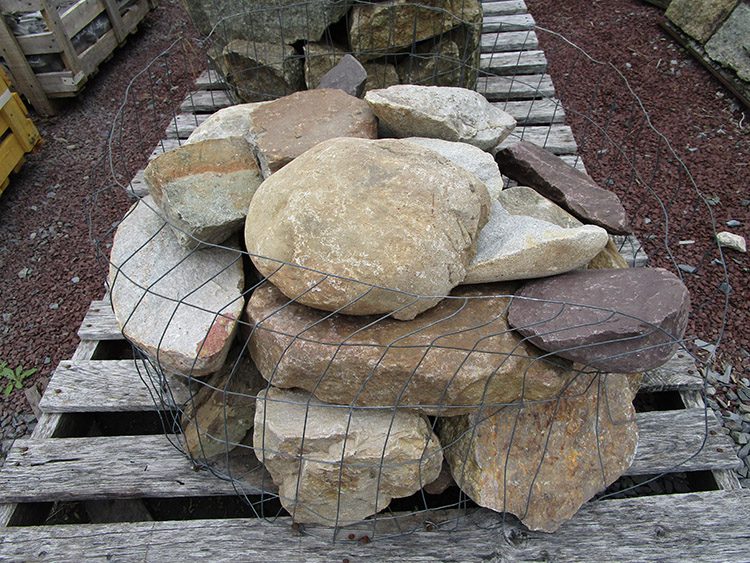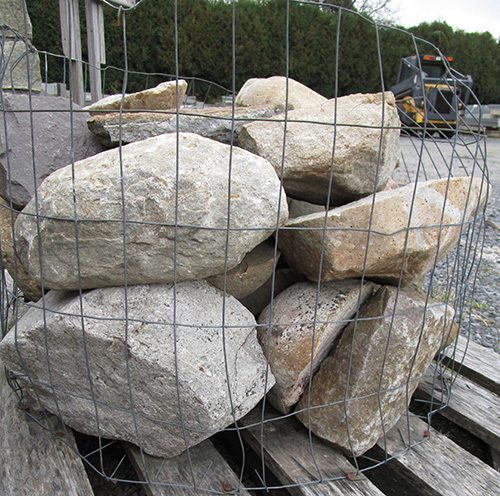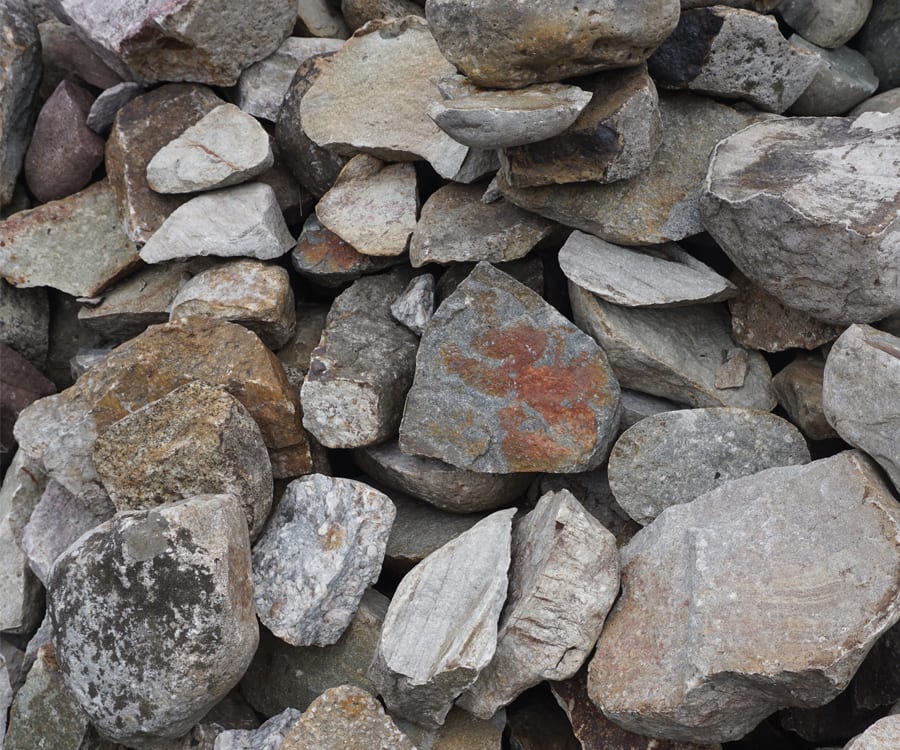 Collected from the stone hedge rows of Pennsylvania and then guillotine split, Splitface Fieldstone is a mosaic full size veneer stone. This fieldstone goes well with our entire line of PA Colonial Stone. The shapes are a mix - there are round and squarish shapes. The color range is impressive too. If you are looking for a colonial style full size veneer building stone please consider our Splitface Fieldstone.
Specifications
Up to 6" thick (deep) full size veneer stone. Sold loose by the ton.
Reclaimed from the historic Kean Estate in Livingston, NJ this Full Size veneer has been guillotine split to reveal the inner black color of the stone. The mortar that held the veneer in place over 100 years adds brown accents - it is a striking combination. To learn more about the reclaimed Kean Estate stone we have please visit our dedicated page.
Up to 6" thick (deep) full size veneer stone. Sold loose by the ton.
What Is A Foundation Shelf?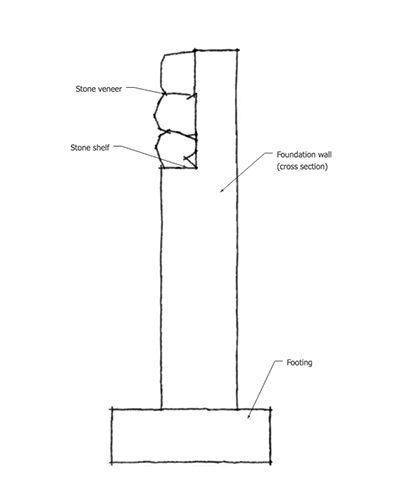 A Foundation Shelf is a bump out in the foundation of a structure to hold full size veneer stone. Our full size veneer stone can be up to 8" deep, and the shelf depth should reflect the particular stone being bought. An 6" deep stone should have a 6"+ deep foundation shelf. The foundation carries the weight of the stone, not the structure's walls. Foundation shelves can be added to an existing home by qualified contractors or they can be part of the initial foundation pouring.
Top Facts About Veneer Stones
Veneer stones in NJ, NY, and PA are available in various colors, textures, and sizes to suit any design aesthetic.
They can be used for both interior and exterior applications.
Installation is relatively easy compared to other types of stone products.
The cost varies depending on the type and size you choose.
Professional installation is recommended for best results.
Proper maintenance will help ensure your veneer stones last longer and look better.
You may need to seal or waterproof your veneer stones if they are regularly exposed to moisture or extreme temperatures.
Discover the endless possibilities of veneer stone in New Jersey with Wicki Wholesale Stone, Inc., offering expert advice on installation, design, and maintenance for all your stone needs.
Installation Tips and Techniques
Ensure a clean, dry surface for proper adhesion.
Apply a weather-resistant barrier and metal lath.
Use proper mortar mix for best results.
Apply stones in a staggered pattern for a natural look.
Seal joints to prevent water penetration and damage.
Maintenance and Care
Regularly inspect for cracks or loose stones.
Clean with a gentle detergent and soft brush.
Avoid pressure washing to prevent damage.
Address any issues promptly to ensure longevity.
Design Ideas and Inspiration
Accent walls for interior and exterior spaces.
Fireplace surrounds and mantels.
Kitchen backsplashes and islands.
Outdoor kitchens and living areas.
Landscaping features like retaining walls and walkways.
Benefits and Advantages
Durable and weather-resistant.
Cost-effective compared to natural stone.
Wide variety of styles and colors.
Low maintenance requirements.
Enhanced curb appeal and property value.
Comparison of Veneer Stone to Other Stone Options
Lighter weight than natural stone.
Easier and faster installation process.
More affordable than full-dimension stone.
Greater design flexibility and customization.
Customization Options and Varieties
Wide range of colors, textures, and sizes.
Custom finishes and edge treatments.
Ability to mix and match styles for unique designs.
Custom cutting for precise fit and installation.
Environmental Sustainability
Energy-efficient manufacturing process.
Reduced transportation emissions due to lighter weight.
Long-lasting material reduces waste and replacement needs.
Cost and Budgeting Considerations
Material costs vary depending on style and customization.
Labor costs depend on project size and complexity.
Consider the long-term value and return on investment.
Factor in potential maintenance and repair costs.
Compare pricing with other stone options to make an informed decision.
Unlock the potential of veneer stone with Wicki Wholesale Stone, Inc., and transform your New Jersey property with beauty, durability, and cost-effectiveness.