Veneer Stone Shapes and Cuts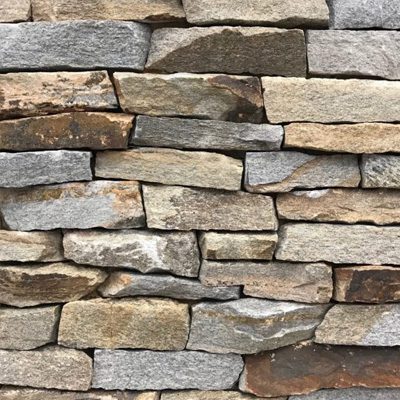 Our definition of Ledgestone is overwhelmingly rectangular pieces with limited height on any one piece. Ledgestone resembles Strip stone - but the pieces of Strip are taller (top to bottom). The width of Ledgestone can be substantially wider than the height - creating the effect of ledges
Can be stacked without mortar in the joints or with obvious joints (mortar is required in either thin layers between the stone - or in the back of the stone).
Allows for the maximum mixing of colors, textures, and relative shapes in a relatively easy stone to work with.
Examples Of Ledgestone Shaped Stone In The Field
Our definition of Mosaic is completely random pieces that fit together like puzzle pieces. Mosaic is sometimes called fieldstone.
There is an attempt to limit any square and rectangular pieces in a mosaic pattern but that can vary from quarrier to quarrier. The result is typically slightly rounded pieces or very geometric pieces.
Mosaic stone can be challenging to work with, fitting together the pieces is an issue. In part that can be solved by accepting larger joints between pieces, but if you want tight joints there is likely to be hand shaping involved (hammer, chisels and hammer)
Our Mosaic Stone thin veneer building stone line includes some of our largest stone pieces and our most colorful stone.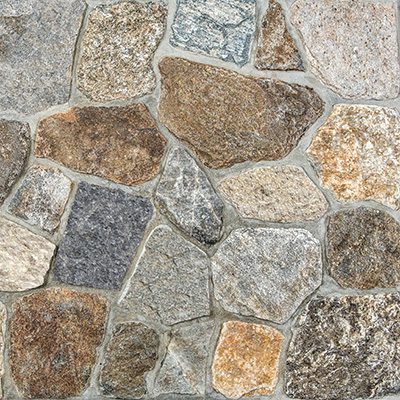 Examples Of Mosaic Shaped Stone In The Field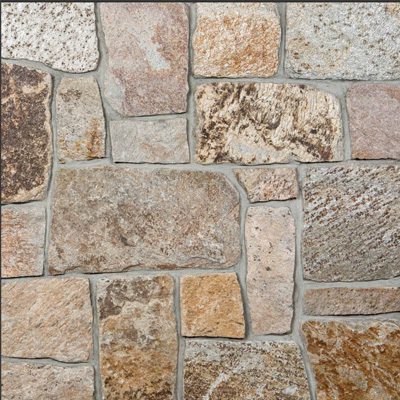 Squares and Recs Shape/Cut
Our definition of Squares and Recs is squares and rectangles mixed together. Squares and Recs are sometimes called Ashlar or Castlestone.
The pieces can range from really square to elongated rectangles. The rectangles can be placed vertically or horizontally. The mix is generally larger pieces, with a mix of smaller pieces to fill gaps.
Relatively easy stone to work with. The square and rectangles naturally go together, and the pieces can be bigger. This stone installs much faster than Mosaic.
Most often installed with mortar joints. A classic look that when combined with the size of the pieces and the colors available make this a very appealing thin veneer building stone.
Our definition of Strip is rectangular pieces of medium size. The pieces are larger than those found in our ledge stone and can be similar in size to those found in our squares and recs Strip is often called Strip Veneer
The pieces can are often medium size - 3-6" in height and typically wider than they are tall. They are most often set in horizontal rows but can be used in a range of orientations.
If Ledgestone pieces feel too small, or even busy - Strip may fit the bill.