Outdoor Stone Steps NJ, PA, NY: Step Stones For Stairs & Patios
Wicki Stone is one of the largest suppliers of natural stone steps in the northeastern United States. Stone Steps are one of our most popular landscape stone products. Stone steps are often referred to as rock steps or stone stairways. With over 20 different stone choices and hundreds of sets of on-site inventory, we almost certainly have a set of steps perfect for your project.
In addition, our steps come in a wide variety of colors, textures, and sizes. Colors include blue, silver, gray, brown, tan, rust, and mixed colors. The textures of our stone steps are either smooth, slightly smooth, or rough. Sizes of our stone steps range from 2 - 3 feet wide to as much as 10' wide. We have a huge on-site inventory, literally hundreds of step set to choose from (see pictures of some of our inventory below). Natural stone steps add a unique element to any landscape; they can transform a landscape independently, and few, if any, stone yards in the northeastern United States carry as many stoned steps as Wicki Stone. If you are looking for stone steps for your project, we urge you to visit us.
Bluestone Natural Stone Steps
Karney® Natural Stone Steps
Karney® is a registered trademark of Wicki Stone
Rainbow Natural Stone Step Choices
Blue Ice Natural Stone Step Choices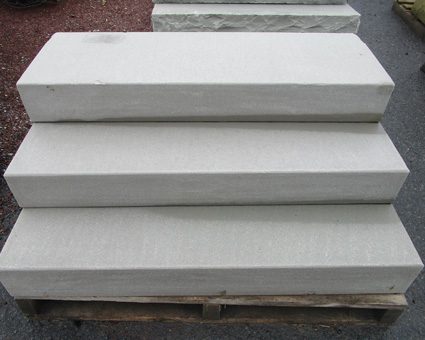 Blue Ice Dimensional Stone Steps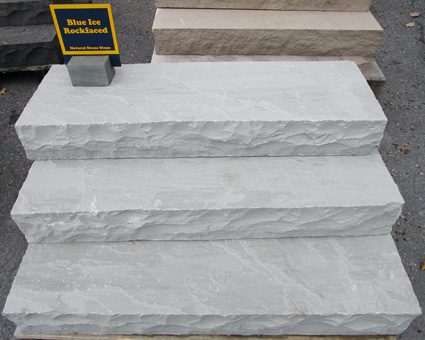 Blue Ice Natural Cleft Stone Steps
Additional Natural Stone Step Choices
Expert Facts On Outdoor Stone Steps
Outdoor stone steps in NJ are typically made from bluestone, granite, or limestone.
They can create a beautiful and functional entranceway to your home or garden.
You may need to hire a professional contractor for installation, as the stones can be heavy and require special tools.
The cost of outdoor stone steps will depend on the type of material you choose, the size of the project, and labor costs.
Proper maintenance is essential for keeping your outdoor stone steps looking their best; regular cleaning with mild soap and water should do the trick!
Sealing your outdoor stone steps will help protect them from weathering over time.
Suppose you live in an area that experiences freezing temperatures during winter. In that case, it's essential to ensure that any cracks between stones are filled with sand or gravel before they freeze, so they don't expand further when thawed out again.
Stone Steps Gallery - In The Field Pictures Of Our Stone Steps