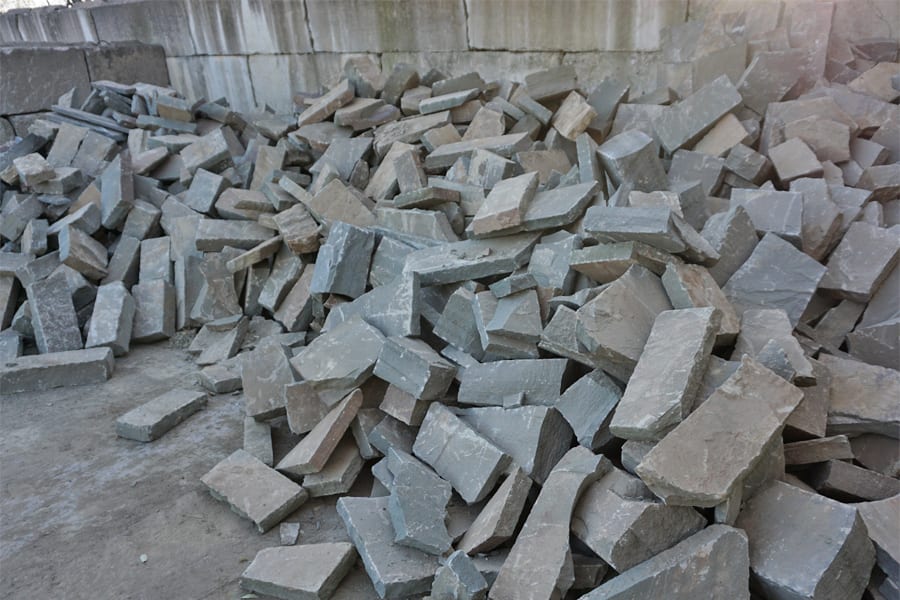 ® Karney is a registered trademark of Wicki Stone in Great Meadows, New Jersey.
Snapped Karney® Bulk Wall Stone Description and Details
Guillotine snapped to produce 1 or more (often 2 or more) straight edges - making it extremely easy to work with. Unique earth tone colors with a strong presence of grays and browns. Just one member of a family of Karney® stone products at Wicki Stone.
Primarily gray and brown, with accent colors that can include rust,  green and blue.
Guillotine snapped edges means the edges are slightly rough with 2 or more straight edges. Top and bottom are slightly rough but this is easy stone to work with.
12 to 13 square feet per ton of stone. A ton produces a wall 2' high and 6 - 6.5' feet long - or any combination of height / length that equals 12 to 13 square feet of wall surface area.
By weight. You can pick up 10 pieces or we can deliver 20 tons and anything in between. With loose wallstone you can get more precise quantities and the stone is of mixed sizes - giving it maximum flexibility.
Frequently Asked Questions
Similar Products - What Goes With This Stone?
Karney® is a large family of stone at Wicki Stone. Not only do we carry 5 types of palleted wall stone, we carry;
Karney® Steps
Karney® Building Stone
Karney® Placement Rocks
Karney® Bridge and Dive Rocks
Karney® Walkway and Patio Stone - multiple types