Indian Hill Sawn Natural Edge Stone Steps
Indian Hill Stone Steps are from the uniquely beautiful Indian Hill family of stone that includes wall stone, building stone, patio stone and more. Best described as light brown to tan but with extensive markings and wonderful accent colors. At Wicki Stone Indian Hill Stone Steps are typically cut from a single large boulder into 6" slices. The top and bottom of the step is sawn - the edges are completely natural. Goes great with our Indian Hill wall stone and building stone. A great landscape stone and a Wicki Stone Specialty Product.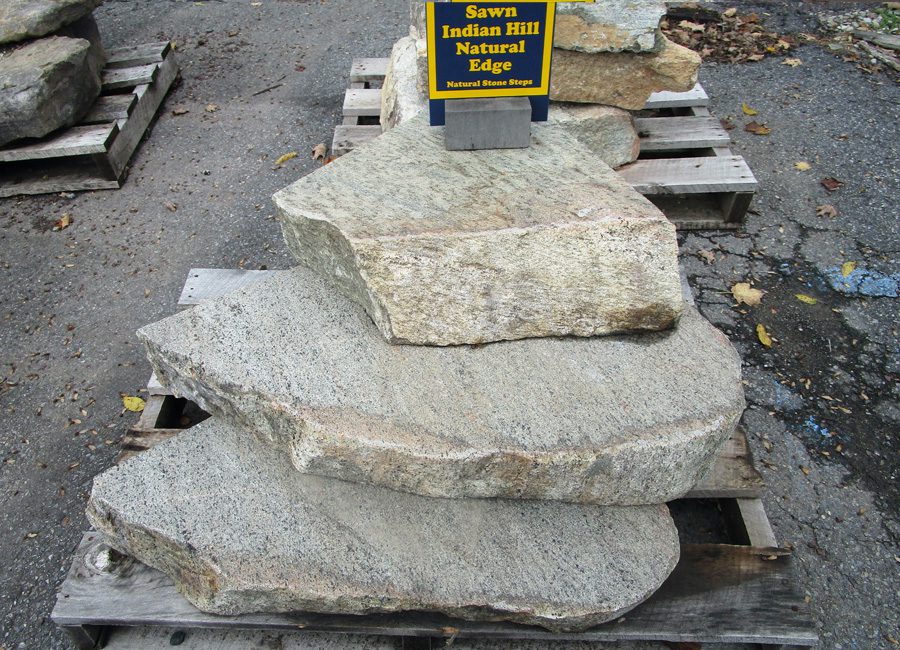 Sawn Indian Hill Natural Stone Steps Description and Details
Indian Hill Sawn Natural Edge Stone Steps
Formerly called Chapel Ridge Stone Steps
Multiple pieces are sawn from a single boulder to stunning effect. These are exceptionally beautiful and unique natural stone steps. Sawn surfaces are smooth but not slippery. This is a product exclusive to Wicki Stone.
Light gray and light brown are the primary base colors but a range of accent colors can mix in on any given piece.
Completely natural. Edges are highly irregular, top surfaces are sawn so they are smooth but not slippery. Instantly gives a classic, aged look to any landscape.
Steps are sawn to 6" riser heights. Length and width are highly variable and depend on the set. It is not uncommon for each step in a set to be 3-4 feet wide, 2 - 3 feet deep, and 6" tall, but that can vary widely. We have some sets that are much longer, and certain sets can have significantly smaller lengths and widths.
By the total square feet of step surface area. Each step is measured at the saw house and pallets are marked with total square footage of all pieces on the pallet.
Indian Hill Natural Stone Steps Photo Gallery
Frequently Asked Questions
Similar Products - What Goes With This Stone?
The following products go well with Chapel Ridge Stone Steps
Indian Hill Wallstone - multiple forms
Indian Hill Boulders and placement rocks