PA Colonial Weight Stone Steps
PA Colonial Natural Stone Steps are the steps that go with the classic wall stone that we sell so much of. PA Colonial Natural Stone Steps are completely irregular and natural - top, bottom and all sides. Every step is different - often dramatically different. These are classic looking stone steps that in combination with PA Colonial Wall Stone can instantly transform a landscape into a classic , aged look and feel. Moss will often grow on the edges of PA Colonial Natural Stone Steps as will lichens.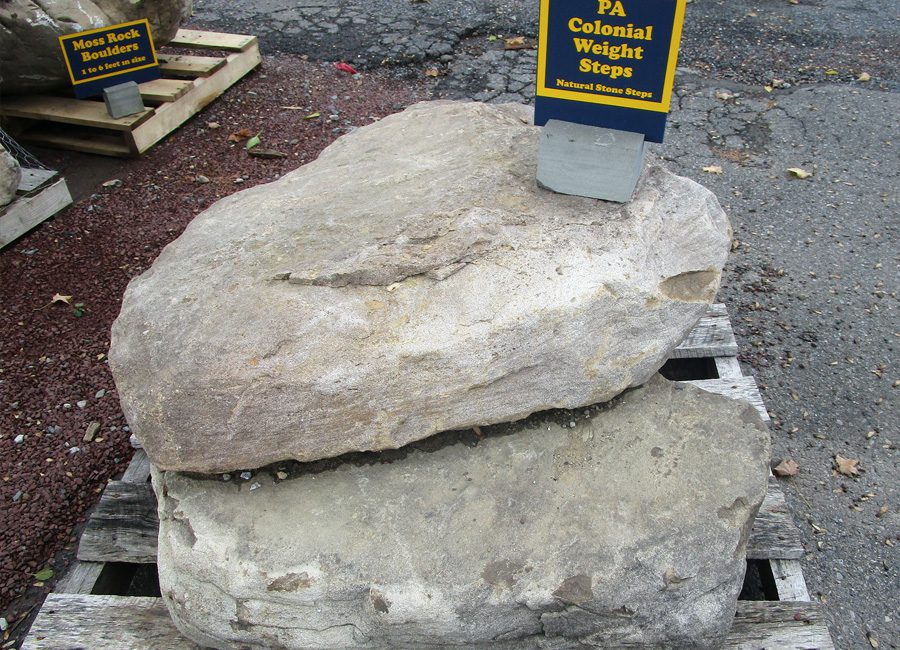 PA Colonial Weight Natural Stone Steps Description and Details
PA Colonial Weight - Natural Stone Steps
Wonderfully irregular steps pulled from the same sources as our wall stone. Gray tones with darker and lighter accent colors. Irregular step surfaces not recommended for high traffic areas.
Light gray although some pieces can be tan or brown. Subtle accent colors add interest, as does moss and lichens.
Completely natural. Edges are highly irregular, top surfaces can be rough and uneven. Instantly gives a classic, aged look to any landscape.
Most steps have roughly 6" riser heights. Length and width are highly variable and depend on the set. It is not uncommon for each step in a set to be 3-4 feet wide, 2 - 3 feet deep, and 6 to 8" tall, but that can vary widely. We have some sets that are much longer, and certain sets can have significantly smaller lengths and widths.
By weight, in sets (sets are usually 3 steps but can be 2 or 4+). Sets cannot be broken up and mixed and matched.
Frequently Asked Questions
Similar Products - What Goes With This Stone?
PA Colonial is large family of stone at Wicki Stone. We also carry
PA Colonial Wall Stone - multiple forms
PA Colonial Boulders and Placement Rocks
PA Colonial waterfall Spill Rocks