Rainbow Weight Stone Steps
Rainbow Weight Natural Stone Steps are colorful natural stone steps from Wicki Stone that are sold by weight. Browns and tans mix with orange and red to create a uniquely colorful stone step. Rainbow Natural Stone Steps have completely natural top, bottoms and all sides. These steps look aged the day they are installed - as if they had been in that spot for decades - a classic look that is hard to achieve. Rainbow Natural Stone Steps go well with a range of other Rainbow products we sell (learn more in our Landscape Stone section of our Families Of Stone section). A uniquely colored stone step that can transform any landscape.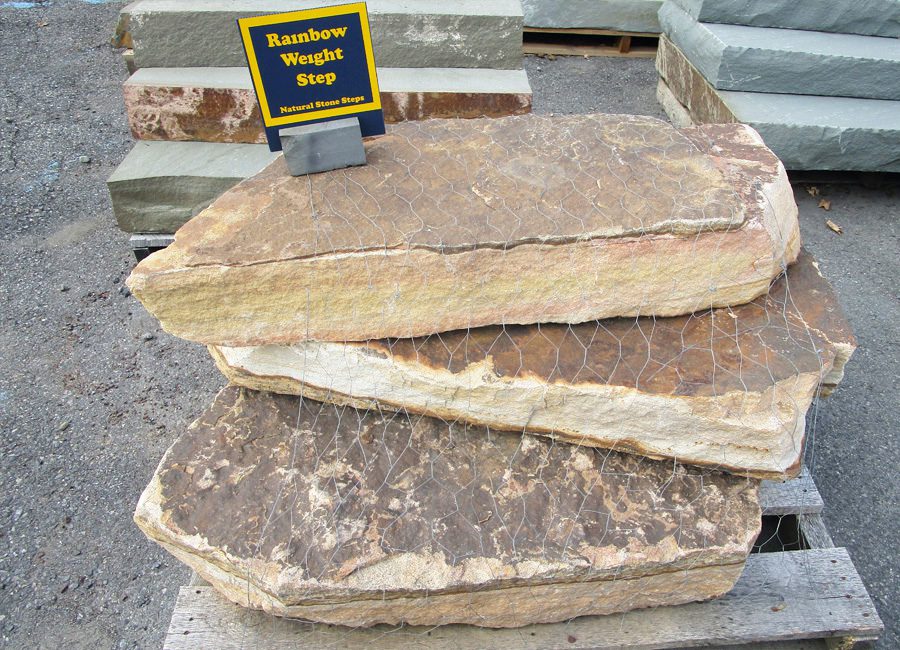 Rainbow Natural Stone Steps Description and Details
Rainbow Natural Stone Steps
Colorful steps are just one more example of the range of Rainbow stone products we sell. Irregular edges and stepping surfaces, not recommended for high traffic areas.
Tan to brown with distinct orange and rust hews and a range of accent colors including black. Very colorful stone.
Completely natural. Edges are highly irregular, top surfaces can be rough and uneven. Instantly gives a classic, aged look to any landscape.
Most steps have roughly 6" riser heights. Length and width are highly variable and depend on the set. It is not uncommon for each step in a set to be 3-4 feet wide, 2 - 3 feet deep, and 6 to 8" tall, but that can vary widely. We have some sets that are much longer, and certain sets can have significantly smaller lengths and widths.
By weight, in sets (sets are usually 3 steps but can be 2 or 4+). Sets cannot be broken up and mixed and matched.
Frequently Asked Questions
Similar Products - What Goes With This Stone?
We sell a wide range of Rainbow stone products including
Rainbow Wall Stone - multiple forms
Rainbow Boulders and Placement Rocks
Rainbow walkway and patio stone - 2 variations