Sawn 1.5" Blue-Blue Bluestone Irregular Walkway/Patio/Garden Path Stone
Sawn Blue-Blue-Bluestone Irregular Walkway and Patio Stone is similar to our other Bluestone Irregular but this product is precisely cut into 1.5" thick pieces. A thermal finish is added to give the stone a slight texture. This is ideal for a precise wet-laid walkway or patio - there are no significant variations in height - like you would get with a natural cleft finish. A stunningly beautiful stone when seen up close.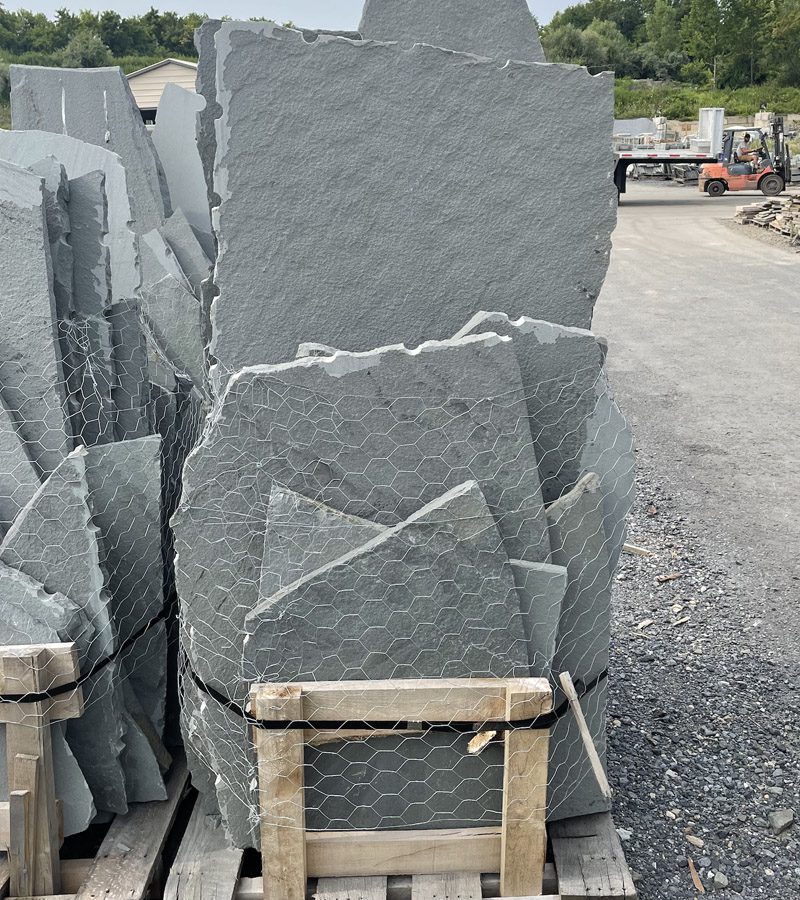 Long Description
Blue-Blue is the brightest bluestone color we offer at Wicki Stone. A sawn thermal finish is the smoothest bluestone you can get without being slippery. 1.5" Sawn Blue-Blue Irregular Bluestone has both these features. The color is bright and the finish is smooth, uniform and not slippery. That makes this a great stone for patios, walkways, garden path walkways, pool decks and more. With a concrete foundation this stone is remarkably smooth and uniform in height - it's as good as pattern stone can be. Also dry lays beautifully. This is strikingly beautiful stone once you get close, the color just pops, the uniformity in height is welcome and the irregular shapes are endlessly fascinating.
Frequently Asked Questions
Similar Products - What Goes With This Stone?
Wicki Stone carries these products that match or compliment Blue-Blue Bluestone Irregular walkway and patio stone.
Bluestone treads and natural steps
Bluestone wall stone - numerous types
Bluestone building stone
Bluestone spill, dive and bridge rocks
Pattern Bluestone
Have Questions? Please call us at 908-637-6004 today
We sell over 1,500 different products in our yard, and we are constantly introducing new products. We can't show everything we sell on this site so please call if you have any questions or don't see what you are looking for. Or email us below.