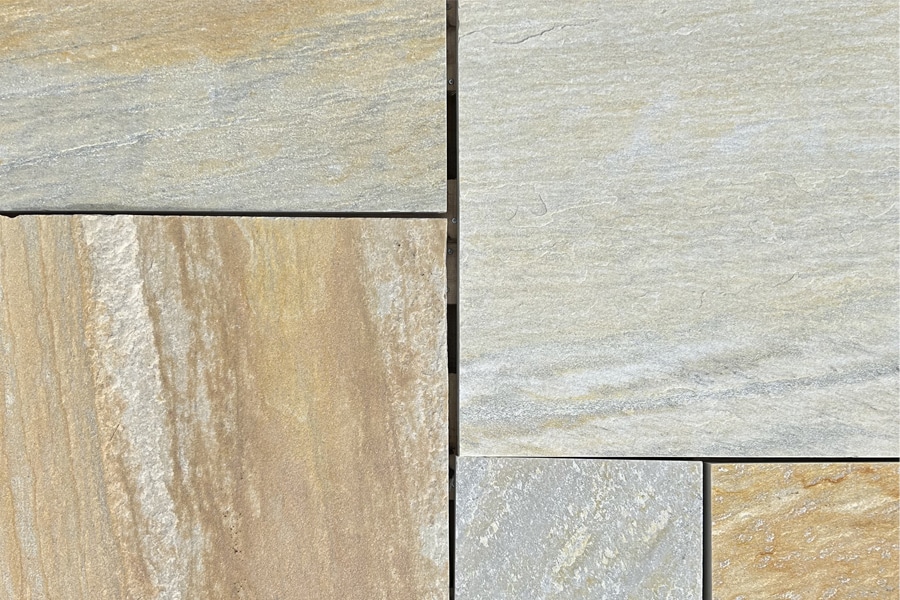 We are constantly searching for new stone, including looking for stone overseas. We found an amazing new stone in South America - we call it South American Quartzite. The stone is extremely hard and durable, features a great mix of colors, doesn't heat up like other stone, and is ideal for walkways, patios, pool and porch deck applications. Here's more about this unique pattern stone.
• Hard, durable quartzite.
• Natural Cleft Finish (a slightly textured finish) averaging 1.25".
• Available in a three piece pattern layout- 29.5cm x 29.5cm, 29.5cm x 59cm &59cm x 59cm. Roughly 1'x1', 1'x2', & 2'x2' (with space for jointing).
• Unique mix of golds, whites, and greys.
• Doesn't heat up in the sun like darker pavers and other stones.
• Available exclusively at Wicki Stone.
Frequently Asked Questions
Similar Products - What Goes With This Stone?
Wicki Stone carries these products that go well with South American Quartzite.
There is nothing quite like this stone in the yard so we can't easily recommend complimentary products.
Have Questions? Please call us at 908-637-6004 today
We sell over 1,500 different products in our yard, and we are constantly introducing new products. We can't show everything we sell on this site so please call if you have any questions or don't see what you are looking for. Or email us below.