Snapped Bluestone Natural Stone Steps NJ, NY, PA: Natural Edge Bluestone Step
Our process: Bluestone Steps are snapped by a stone guillotine on all six edges. The result is a natural edge and smoothish top. Colors may vary from blue-gray only to earth-tone accents. It goes with our full line of bluestone products—a more natural look to a bluestone step with a wide range of our landscape stones.
Expert Facts On Bluestone Steps
Bluestone steps are a popular choice for outdoor landscaping in New Jersey due to their durability and attractive appearance.
They can be used as bluestone walkways, bluestone patios, bluestone stairs, bluestone paths, or even pool decks.
The stones come in various shapes and sizes, so you can customize your design to fit the look of your home.
Bluestone is also easy to maintain; it only needs occasional cleaning with mild soap and water.
It's essential to use a professional installer when installing bluestone steps because they need to be leveled appropriately and secured into place for safety reasons.
You may want to seal the stone after installation to protect it from weathering over time.
If you live near saltwater, you should consider using a special sealant explicitly designed for coastal areas that will help prevent corrosion caused by salt spray.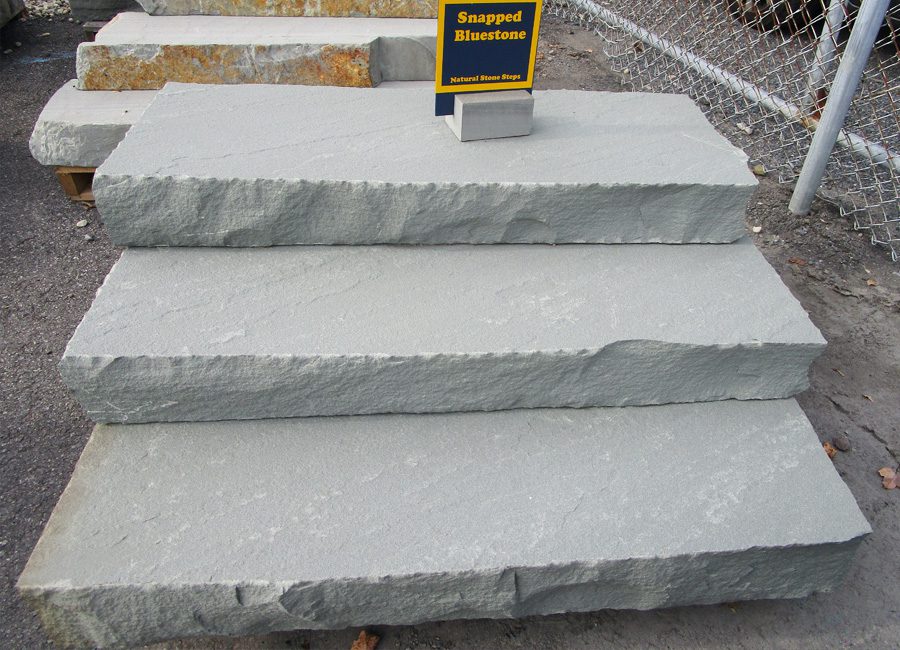 Snapped Bluestone Natural Stone Steps Description and Details
Guillotine snapped for reasonable straight edges. Edges remain slightly rough as does top and bottom surfaces. Wonderfully natural looking but nowhere near as irregular as some of our steps.
Silvery blue although some steps have earth tone accents or strong earth tone hues.
All sides are guillotine snapped for reasonable straight edges. Top and bottom steps are smooth but not slippery.
Most steps have roughly 6" riser heights. Length and width are highly variable and depend on the set. It is not uncommon for each step in a set to be 3-4 feet wide, 2 - 3 feet deep, and 6 to 8" tall, but that can vary widely. We have some sets that are much longer, and certain sets can have significantly smaller lengths and widths.
Frequently Asked Questions
Similar Products - What Goes With This Stone?