What Is A Dry Stream Bed (Also known as a Dry Creek Bed)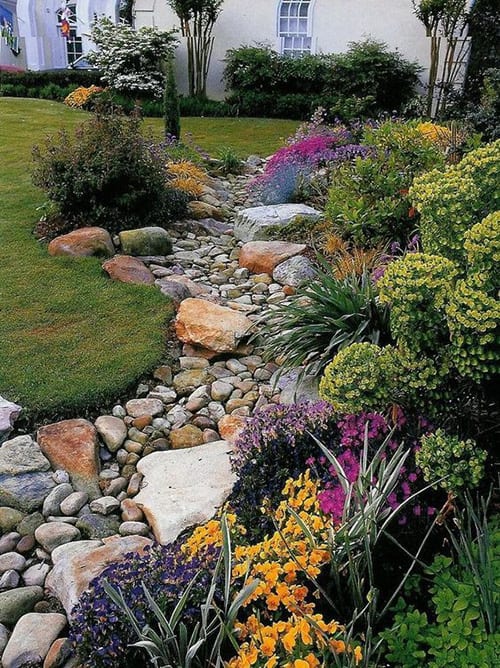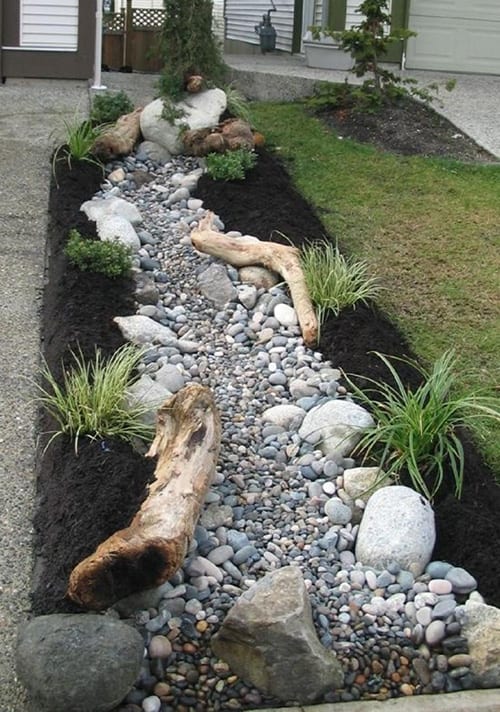 A dry stream bed (also known as a dry creek bed) is a landscape feature that simulates a creek or stream bed using rocks, boulders and often plants and spill rocks. Dry creek beds are often built in gullies or trenches and may be used for drainage - but don't have to be - they can be strictly for looks.
Dry stream beds typically have two or more of these characteristics;
Boulders - large or small - line the edges of the bed or placed periodically. Often used to indicate a bend in the creek. Can be functional by holding back walls of a trench.

River gravel - small to medium sized rounded gravel placed on the floor of the stream bed. Often 2 or more sizes are mixed.

Plants - optional but dry creek beds offer wonderful opportunities for plantings.

Driftwood - not very common but in the right place they can significantly enhance the stream feeling.

Bridge - used to cross over the creek bed

Spill Rocks - rocks that water would spill over - down to the next level. If your dry creek bed changes elevation consider using spill rocks to imply that water will flow over the rock and then drop down to the next level.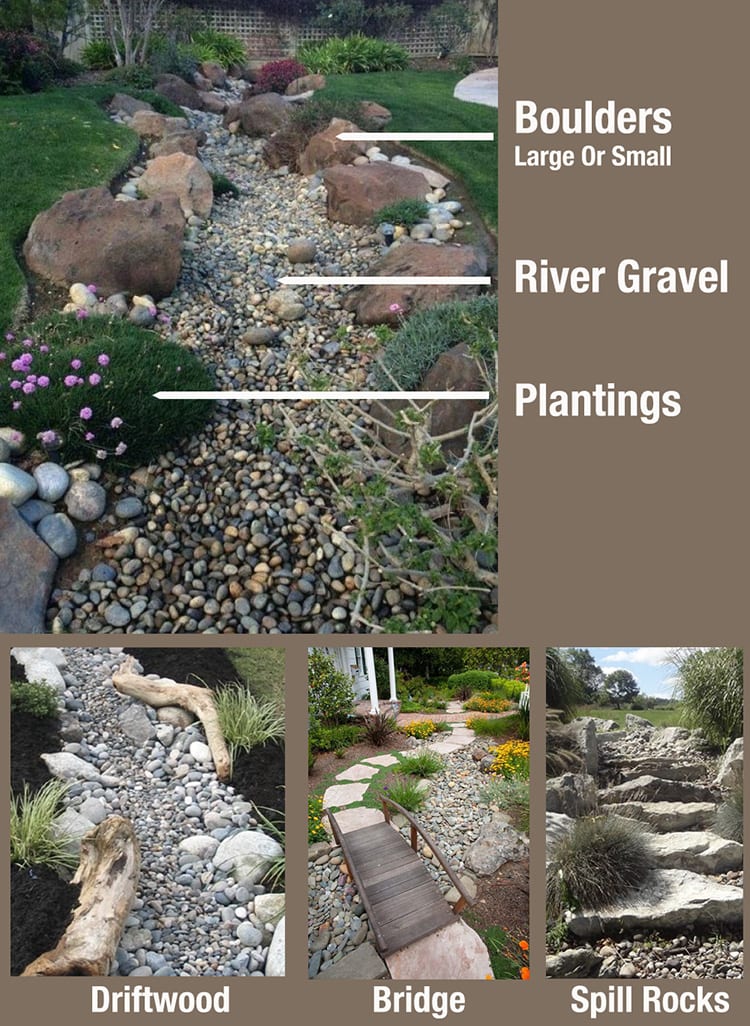 Dry Steam Beds (Dry Creek Beds) can be functional. If constructed properly they can drain water - especially after heavy rains.  We have seen dry stream beds start right at the downspout of a gutter and travel out and away from the house. These creek beds are lined with plastic, or rubber pond liner. Rainwater drains into the bed and is moved away from the house - either to a lower area in the yard - or sometimes out to a street and storm drains (see picture below).
Sources For These Pictures Include;
https://www.pinterest.com/b8a7cfb795b61907d6971128a588aa/dry-creek-bed/?utm_campaign=ruadboards&e_t=224815b988e54308995edd91522c3b0c&utm_source=31&utm_medium=2004&utm_content=813392451389301355&utm_term=1
and
https://www.pinterest.com/search/pins/?q=dry%20stream%20bed&rs=typed&term_meta[]=dry%7Ctyped&term_meta[]=stream%7Ctyped&term_meta[]=bed%7Ctyped
Why Create A Dry Creek Bed?
They are beautiful, they mix rocks and plants in unique ways. They are often silhouetted against grass, or mulch and they really stand out in a landscape. People gravitate toward them - assuming there is water.

A great place for additional plants - gardeners can really have fun alongside or in the middle of a dry stream bed. There are wonderful nooks and crannies for plants.

They can be functional - they can help with drainage.

When done well - they just look a great and can turn an average landscape into an exceptional one.
Wicki Stone - NJ's Largest Natural Stone Yard - routinely stocks all the stone and driftwood you need to build a dry stream bed including multiple size boulders, multiple size river gravels, spill rocks, driftwood, placement rocks, bridge rocks and more.